Global markets and Company's Information year 2015
1. Macroeconomic conditions and industry trends
---
Since the financial crisis, there have been risks that have increased substantially as the financial markets have become more complex and unpredictable. The operations of Europa Re and its investment returns are subject to global financial market volatility and to macro-economic factors, which are outside of the Company's control. Market and macro risks are highly correlated and have to be managed.
Financial Markets
The Company's' investment returns are highly impacted from interest rate volatility and exchange rate movements. The European Central Bank (ECB) and the Swiss National Bank (SNB) continued their quantitative easing programs as Eurozone and economies in Europe remained fragile and deflation remained a risk. In contrast, the US Federal Reserve Board (the US Fed) moved towards monetary policy normalization, increasing the federal funds rate in December.
Central banks' interventions resulted in negative interest rates on bonds and fluctuations in the foreign currency markets which impact directly the Company's investments. In this environment, Europa Re will continue to keep a prudent investment policy and will monitor its investment portfolio to strive for positive returns on investments.
Regulatory Changes
Europa Re operates in a highly regulated environment and it is subject to the applicable regulations of Switzerland, particularly of FINMA's regulations for reinsurance undertakings. Changes in the regulatory frameworks could result in regulatory risks. To this effect, the Company will continue to strengthen its internal compliance structure and rely on the collaboration with auditors to achieve the highest compliance level and minimize regulatory risk.
Market environment in Europe
The Company's underwriting results are mainly impacted from economic developments in Europe and the countries of Southeast Europe. As the recovery of the European economies remains weak, the challenges are amplified in the economies of the Southeast Europe (SEE). Growth prospects in the SEE region will continue to depend on the pace of recovery of the Eurozone and of further policy actions by the European Central Bank. The outlook of the economies where Europa Re performs business over three coming years looks promising: the continued economic crisis in Greece and the refugee crisis have the potential to further destabilize the economies of the region. The outlook in the countries where Europa Re operates may show a more positive outlook, provided the countries undertake reforms and address some key challenges: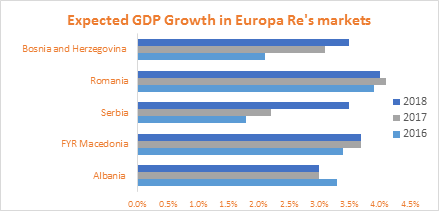 Expected GDP growth ( the economic growth of the countries represents the GDP growth based on World Bank data of Global Economic Prospects)
Reinsurance business and Cat Risk Awareness increase in SEE
Natural disasters impacts many countries of the Southeast Europe region. Economic loss and property damages impaired households, small and medium-sized enterprises (SMEs) and farmers in disaster-prone areas. With the view of improving disaster risk management - which lies in the core of our vision and mission - Europa Re team managed to develop models for:
• risk pricing;
• underwriting;
• claims handling;
to support ex-ante disaster risk mitigation and ultimately provide every homeowner, business owner and farmer with the opportunity to purchase reliable and affordable catastrophe and weather risk insurance protection directly from our local insurance partners in Albania, Macedonia and Serbia (Europa Re's Member countries)
In 2015 the Company concluded new reinsurance contracts with cedants in the Southeast Europe region, admitted two more insurance partners in Macedonia to the use of the platform, as well as extended its territorial scope by obtaining the authorization from FINMA to transact reinsurance business in Romania.
One of the line of business is written through a special purpose Internet platform used by local insurance companies which cede 100% of the risk on a quota share treaty basis to Europa Re. This business is currently offered in Albania, Macedonia, and Serbia and can be split into the following two segments:
• Catastrophe risk coverage for natural hazard risks such as earthquake and flood for homeowners and commercial clients;
• Agriculture Area Yield Index Insurance (AYII) for farmers, agricultural cooperatives and municipalities.
In addition, Europa Re has signed commercial property reinsurance on a non-proportional basis and quota share treaty covering fire, earthquake and flood risk.
The company has managed to address the supply side deficiencies in the local insurance markets by providing all the major building blocks for a sustainable catastrophe insurance market and is consistently providing technical assistance to local partners in the field of insurance product development as well as in identifying new distribution channels with a view to increasing the penetration of catastrophe insurance in this region.
2. Successful project implementations for building capacities in Cat insurance
---
In line with its mission, during year 2015, Europa Re has successfully concluded two important projects for the USD 5.5 million GEF/SCCF and USD 4.5 SECO grants under the SEEC CRIF program, which financed the development of the catastrophe insurance market infrastructure in SEE. Because of the specialized insurance and reinsurance expertise, Europa Re was selected to implement two more projects for a period of 3-4 years for the USD 5 million GEF/SCCF grant in Kazakhstan and USD 3 million SECO grant in SEE including Bosnia and Herzegovina until year 2019.
3. Risk and Capital Management
---
Risk management is an integral part of Europa Re's underwriting and business management processes.
Controlled risk-taking requires a strong and independent risk management organization, as well as comprehensive risk management processes to identify, assess and control the Company's and the business units' risk exposures. Europa Re bases its risk management on guiding principles that strive to apply consistently across all risk categories. Europa Re's level of capitalization and its capital structure are driven by regulatory requirements and the risk management framework arising from its underwriting and investing activities. Europa Re meets all relevant capital adequacy requirements, such as the Swiss Solvency Test (SST). Europa Re's SST 2016 solvency ratio stood at 284 %.
Please feel free to ask more e information on Europa Re's financials:
Address: Bundesplatz 16, CH-6300 Zug, Switzerland
Phone: + (41) 41 710 35 93
E-mail: info@europa-re.com